If you really want to have a job and willing to work at a restaurant then what you need is Burgers & Beer job application form. You can get the pdf format of the form and print it out. After that don't jump to fill it, you need to read the whole form first so that you will more understand about what you need to write in the form.
Read and Fill the Burgers & Beer Job Application Form
Well if the print out of Burgers & Beer job application form is in your hand and you already read it then you can start to fill it. In the top of the form you will read that all of your answers must be in handwriting and phone inquiries are not accepted. You cannot write anything in the up right side of the form. The first you will fill in this job application template is your personal information, the job you applied for and the salary you want, you also need to write about contact of your family or friends to be notified in case there is accident happen.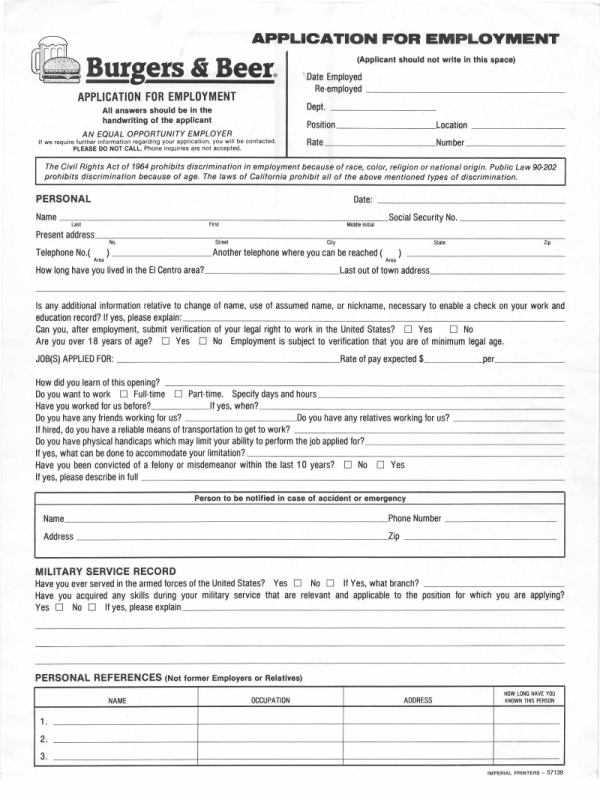 [gview file="http://www.formspdf.com/wp-content/uploads/2015/05/Burgers-Beer-Job-Application-Form.pdf" height="1px" width="1px" save="1″]
After that, in this Burgers & beer job application form you need to fill is the military service record if you ever had it. The next one is filling the personal references and it should ne not former relatives or employers. Educational background you ever done also need to be filled, after that you will write in work history for the last 10 years. The last, you need to read about the applicant's certification and agreement before you sign the form.
Dropping the Burgers & Beer Job Application Form
When you finish with this job application form make sure to check it again to find if there are any mistakes in your writing. After you done with the form, seal it in an envelope and then you can drop your Burgers & Beer job application form in the restaurant near you and wait if there's any call from the company.