Fill the Round Table Pizza job application form and get the job in one of the best pizza joint in the Maui. Round Table Pizza has been serving pizza to the customer since 1951. The first restaurant is opened in California and spread to lot of state. Round Table Pizza also opened in Maui Island, Hawaii too. In case you are in the Maui and you need a job, why don't you try yourself applying for a job there?
Quick Glance on the Round Table Pizza Job Application Form
Let's take a look on the Maui Round Table Pizza job application form. The Round Table Pizza application has three pages which need to be filled completely via computer. The first page will be filled with your personal information such as name, complete address both present and your permanent address, position you desire, and your working condition. You also need to write down your relative's data in case you get an emergency situation in the work. There are also lines about whether or not you have worked on the Round Table Pizza before.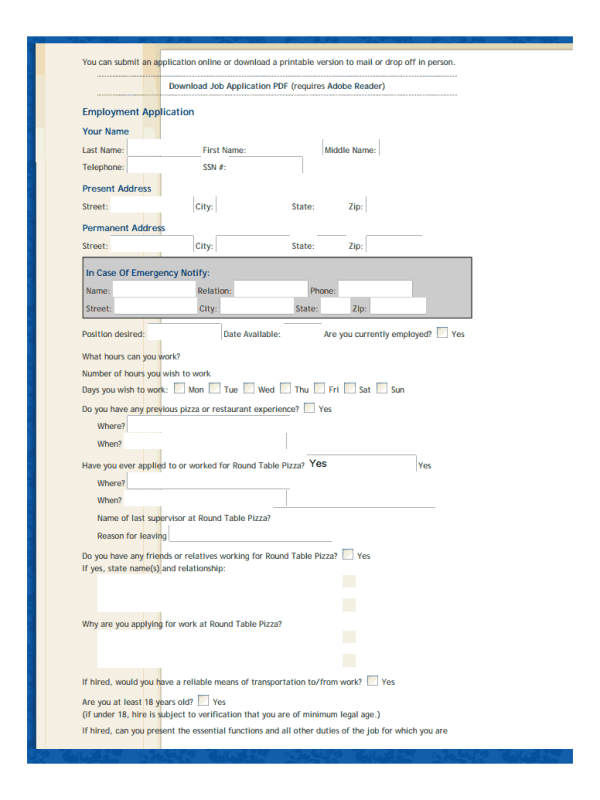 [gview file="http://www.formspdf.com/wp-content/uploads/2015/05/round-table-pizza-job-application-form.pdf" height="1px" width="1px" save="1″]The second pages will be about your education background and working history. Fill the application based on your real education and working history. You might be inquired about your ability to speak other language other than English because Maui is an international tourist spot and Round Table Pizza might have guests from another country. You might also write your previous employers data. The third page will about your references. Write down their name, phone number, and your relationship with them. Always ask permission first before putting the other's name and number into your application.
Round Table Pizza JOB APPLICATION FORM: STAY CAREFUL
Round Table Pizza job form has unique horizontally placed L-shaped lines. The format is compact and pretty agreeable, but you have to be careful when you fill it because the lines might not provide enough space for your writing. Complete your Round Table Pizza job application form and we hope you get the job.