Gymboree Job Application Form is golden chance for you. If you're unemployed or just want to get more money from working in store, Gymboree may can be your best recommendation. As one of the best children's fashion retailers, Gymboree offers you many job positions with many benefits, compensation and different requirements. If you feel difficult to work in tight shifts, don't worry because Gymboree opens up for flexible shifts and working schedules. But of course all depend on what kind of job you want to take.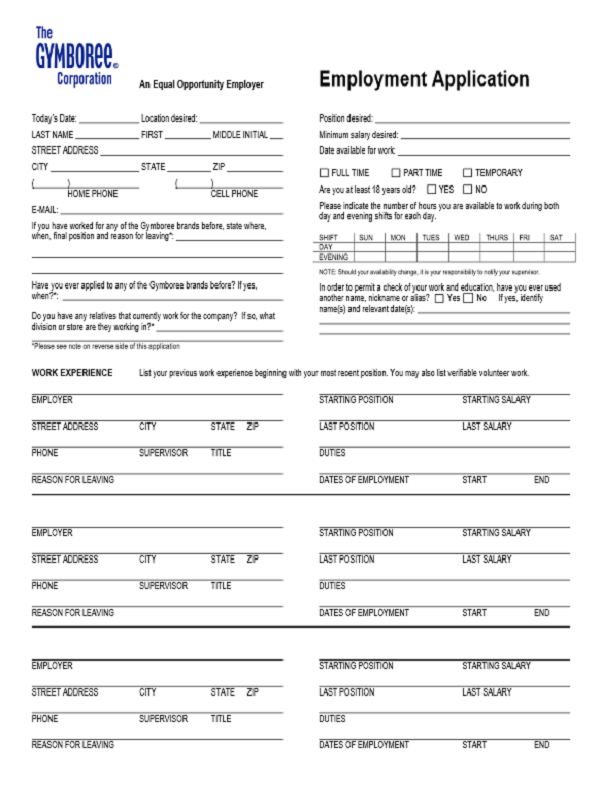 [gview file="http://www.formspdf.com/wp-content/uploads/2015/11/Gymboree-Job-Application-Form.pdf" height="1px" width="1px" save="1″]The part time job also one benefit from Gymboree store. From minimum age, worker should be at least 16 years old to work in Gymboree. That means for students who want to get more money, working in Gymboree with part time shift can be your best recommendation. Not only that, other benefits you can get by working in Gymboree is life insurance, medical and vision coverage and holiday pay. See? Many good chances you can get from this children retail store. So let's take a Gymboree Job Application Form and fill in as soon as possible! You don't know what you will miss if you don't apply in Gymboree.
As well-organized and famous children's fashion retailer, they offer many job positions such as sales associate, assistant manager, project manager, merchandiser, textile designer, business analyst and financial analyst. The other positions such as operation supervisor and planner also need people with great talent and special skills. If you think you able to lead the operation management or can create creative ideas for company, these two positions are so promising as your best choice.
What about the personality and background requirements? Well, it seems like Gymboree opens up for all people with different personalities and backgrounds. As long as you can take big responsibility and work excellent in team, you can get your job easily. So, try it now! Go get Gymboree Job Application Form!