If you search for working opportunity in the Southern California, apply to Gelson's by completing Gelson's job application form and send it to the management. Gelson's is super market chain specialized in providing foods to the customers. Gelson's opening is available for part time or full time employment. You could also get career advancement and nice base pay. Ready to fill its application form?
Gelson's job application form
Gelson's job application form only has two pages to complete. Don't underestimate the number, because this Gelson's employment application form is packed with details and you need to be extra careful to complete it. The first page contains abundant questions about your personal information, general working eligibility, your specialized skills for related jobs, education background, and some questionnaire. In the general information section, you need to answer each question by either checking the box or writing the answer on the line below the question. Read everything and proceed carefully.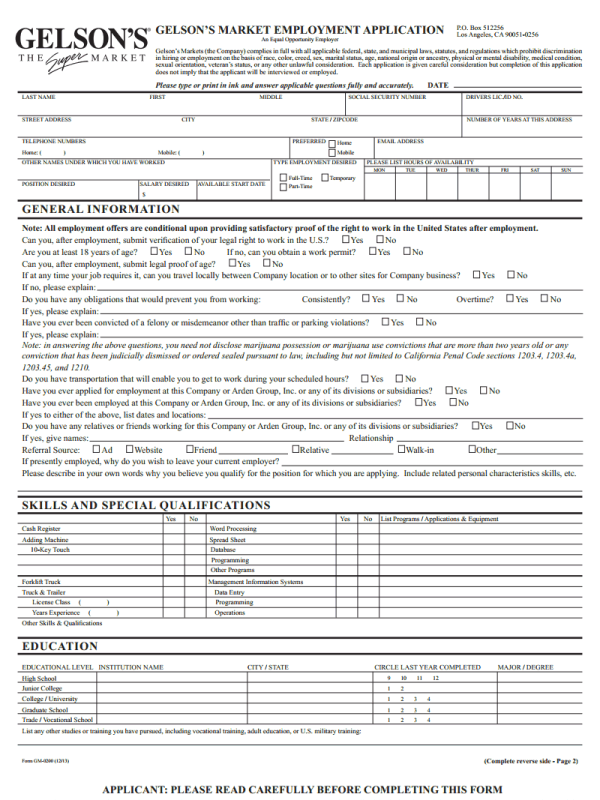 [gview file="http://www.formspdf.com/wp-content/uploads/2015/05/gelsons-job-application-form.pdf" height="1px" width="1px" save="1″]The second page of the Gelson's job application form will ask about your working experience, references, and an authorization section in the bottom part of the page. Before you proceed, you will be asked whether Gelson's could contact your previous employer or not. That means you have to be prepared to ask for permission from your last employers and references. Fill it well, including your past work base salary, final salary, your past duty, and your work-hour for each week so Gelson's could value yourself better. Then write your references other than your relatives and your past employers. After you've done, read the authorization statement and sign the application.
Gelson's job application form
Gelson's application form is pretty extensive. The format is pretty organized so you can answer each question with ease. The general information section might be a little bit cramped because it lacks vertical spacing. The working employment section should have more bold lines as border for each question. Fill the Gelson's job application form carefully and best of luck for you.